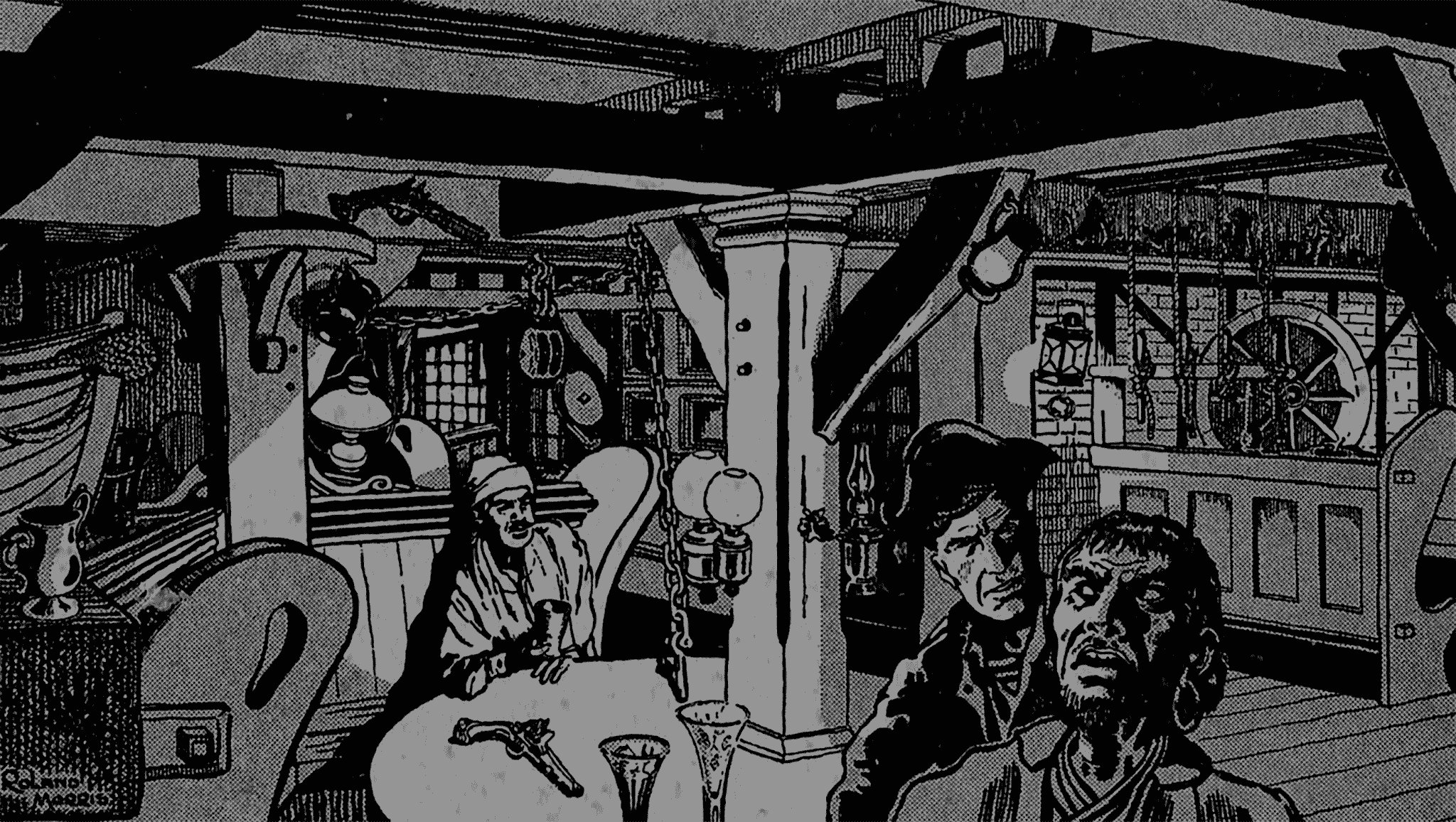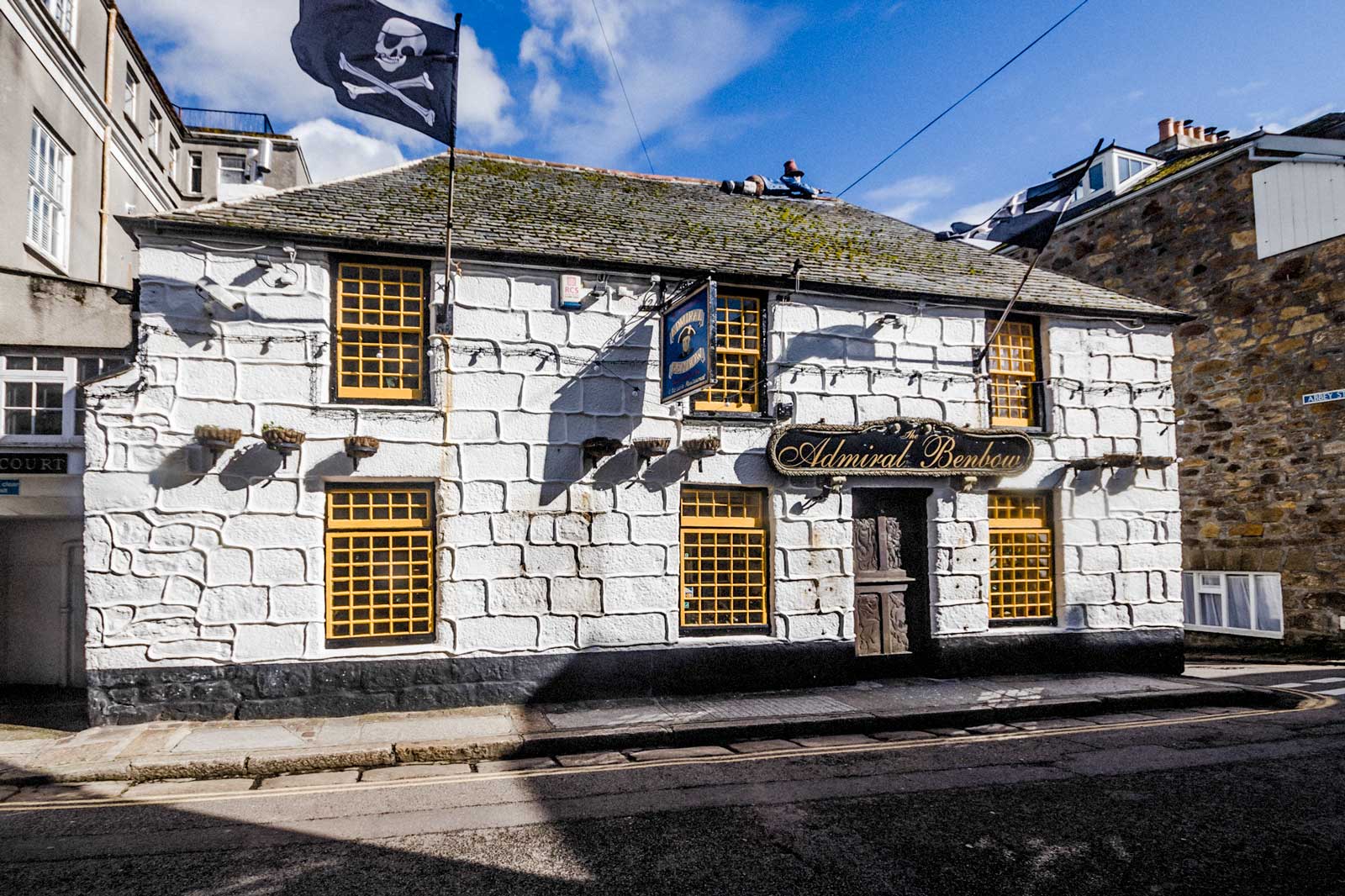 Serving pirates, smugglers and rum
since 1695

Welcome aboard
the world famous
Admiral Benbow pub
The World Famous Admiral Benbow in Penzance, Cornwall houses a fascinating collection of wreckage and maritime artefacts rescued from numerous shipwrecked vessels which foundered on the Cornish coast during the last 400 years. Many of its treasures are incorporated into the fabric of the building. The Captain's Cabin restaurant is an fascinating recreation of a deck from a period ship with its fine stern plate from a Portuguese Man O' War. The Lady Hamilton lounge is home to a magnificent cannon and several rescued ships figureheads. The upstairs bars have extensive views over Penzance harbour towards St Michael's Mount, Marazion.
One of the oldest drinking houses in Penzance, The Admiral Benbow has been in existence since the 17th Century. Legend has it Robert Louis Stevenson visited Penzance in 1880 afer returning from a journey from America. He had formulated an idea of the plotline but had yet to settle on the starting point for the story. A visit to the Benbow, at that time an illegal drinking den and home to numerous smugglers, is said to have inspired him further and as a nod to the pub, he included the name in his story, Treasure Island which first appeared in 1881. The pub has been popular with more recent folk, playing host to  many famous visitors, including Gregory Peck, the Rolling Stones and recently, celebrity chef Rick Stein who filmed a segment for his TV series on Cornwall here.
Today The Admiral Benbow serves a wide variety of beers, wines and spirits including an excellent selection of real ales and fine wines.
The restaurant has a full a la carte menu offering a huge variety of dishes including local seafood. Vegetarian diners are well catered for. Daily specials are available.
Perfect Penzance Pirate Pizzas
(v) vegetarian (vg) vegan (gf) gluten free
Allergies: Please check with us if you have any allergies or intolerances.
All our dishes are prepared in a kitchen that contains nuts and other allergens. Gluten free menu available on request.
During the quiet month of January we will be open fewer days:
Thursday, Friday, Saturday
Grog 17:00 to 23:00
Food 18:00 to 21:30
Sunday
Grog  12:00 – 23:00
Food 12:00-19:00
Closed Monday, Tuesday, Wednesday
Due to so may no shows for bookings, we are now taking deposits of £5 per person for parties of up to 9 people. The deposit is refundable up to 24hrs before the reservation. Please email us for parties of 10 or more.
Email: hello@thebenbow.com
We love Dogs ! Big ones, little ones, furry ones, shy ones, well mannered ones. All we ever ask is that all dogs keep a human on a lead at all times to make sure they behave!
Ask at the bar about treats!


Draught Beers and Ciders
Treens Ale, Budvar,  Spaten, Erdinger, Hoegaarden, Rattler, Devon Red, Guinness
bottled beers
Including… Chimay, Früh Kölsch, Sierra Nevada, Proper Job, Big Job, Corona, Erdinger all free, Crabbies ginger beer.
bottled ciders
Including… Pulpt Flare and Level, St Ives Gold, Sandford Orchards Fannys Bramble and Devon Mist, Old Mout Cider 0%alc,
GINS
Including… Dr squid Ink, Tarquins, Bombay Sapphire, Tanqueray, Plymouth, Monkey 57, Hendricks, Sipsmith, Curio, Portobello, Slingsby and Mounts Bay Gin
Rums
From all over the Caribbean including; Skipper, Mount Gay, Diplomatico, Zacapa, Goslings, Kraken, Havana Club, Wray & Nephew, Pussers, Rumbullion and Captain Morgan.
Whiskies
Caol Ila, Auchentoshan, Lagavulin, Cragganmore, Famous Grouse, Jameson, Jack Daniels, JimBeam
Vodkas
Stolichnaya, Belvedere, Grey Goose, Tom of Finland, Ketel One,
More
We stock a wide selection of liqueurs.
Plus we have an extensive wine list from aeround the world!
To Err Is Human To Arr Is Pirate